St Mary's is situated at the southern end of High Street South, East Ham, London, England. Have a look at the maps to find the exact location. Although situated near to a busy road, the noise of passing traffic quickly subsides as you walk into the church yard.

The Tower is 15.2 m (50 ft) high and inside measures 4.7 m (15 ft 6 ins) square. It is three stories in height, and supported by eight massive buttresses. The castellation on the top of the tower were added by the Victorians.

As you walk up the path notice the tall lancet windows of the Tower, 53 cm (21 ins) in width and 3.3 m (11 ft) in height.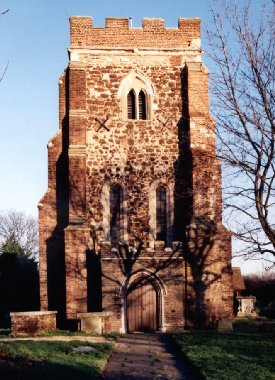 The lancet windows are Early English and shows that the Tower was built or altered in the 15th century.

Now you are in the grounds you can look around the outside, go into the church, or explore the nature reserve. If you come on a Sunday morning or Wednesday evening, you could attend a service. You would be very welcome.